Cisco Enterprise Class 16 Line IP Phone
Sleek ergonomic design with Up to 16 calls on hold
---
$199.95
---
Black & White Display

7800 Series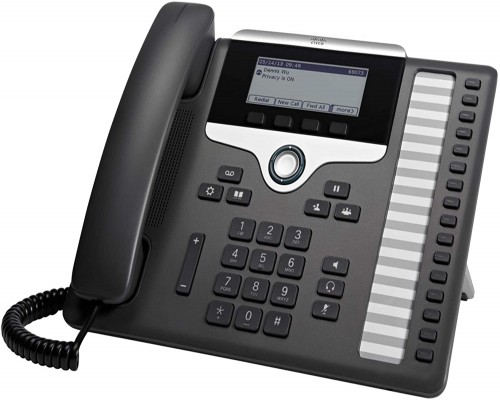 ---
The Cisco IP Phone is a cost-effective, business-class collaboration endpoint that delivers high-fidelity, reliable, secure, and scalable voice communications for small to large enterprise businesses.
Product Description
With the Cisco IP Phone, you can increase personal productivity through an engaging user experience that is both powerful and easy-to-use. The IP Phone combines an attractive new ergonomic design with wideband audio for crystal clear voice communications, "always-on" reliability, encrypted voice communications to enhance security.
The Cisco IP Phone supports five programmable line keys. You can configure keys to support either multiple directory numbers or calling features such as speed dial. You can also boost productivity by handling multiple calls for each directory number, using the multicall-per-line feature. Fixed-function keys give you one-touch access to applications, messaging, directory, as well as often-used calling features such as hold/resume, transfer, and conference. Backlit acoustic keys provide flexibility for audio path selection and switching.
---
Specs
Power over Ethernet (PoE) Class 1
Ethernet switch 10/100
Localized language support
Optional AC-to-DC (48V) power supply for non-PoE deployments sold separately