Cisco Sidecar Expansion Module
Operator Receptionist access for up to 36 Keys
---
$199.95
---
One Touch Transfer

Speed Dial, Directory & Busy Lamp Field

4.3-inch graphical (TFT) color display provides 16-bit color depth and 480 x 272 effective pixel resolution, with backlight

Expands your Cisco 8800 series IP phone with 18 additional physical keys

Supports two pages of 18 keys for a total of 36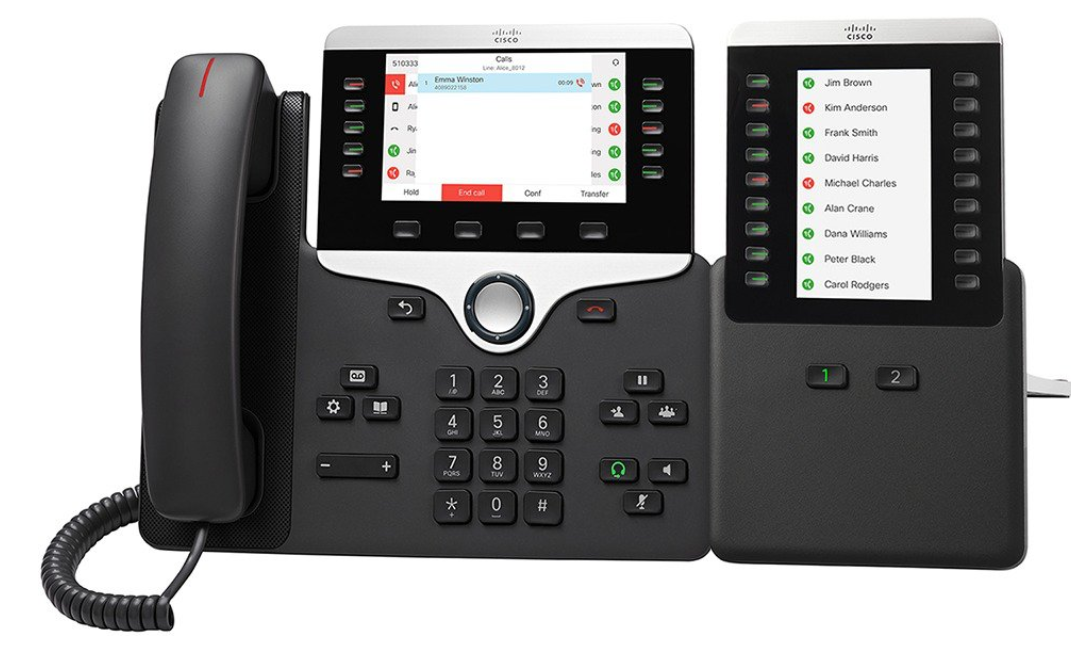 ---
The Cisco Enterprise Sidecar Expansion Module is designed for receptionists, administrative staff, managers and executives, this module simplifies communications with single-button access to the people and features your staff uses most.
Product Description
The Cisco IP Phone 8800 Key Expansion Module extends the capabilities of Cisco IP Phone 8851, 8861, and 8865 models with additional buttons and a color LCD display. This key expansion module adds 18 physical keys with access to 18 additional keys, using the page keys, for a total of 36 additional keys. You can connect up to three 8800 KEMs to the IP Phone 8861 and 8865, and up to two 8800 KEMs to the IP Phone 8851.
Call coverage is critical for administrative assistants and others who must monitor and manage the status of calls. It requires the ability to instantly determine the status of numerous lines beyond those of the Cisco IP Phone 8851, 8861, and 8865 models. For more information please contact a cloud specialist.
IP Phones sold separately. (Phone not included)
Compatible to Cisco 10 Line 8851 & 8861 IP Phones. Contact your cloud specialist for more information.
---
Specs
Physical dimensions (H x W x D): 9.02 x 5.15 x 1.58 in.
Weight: 1.08 lb (489g)
Comes with all necessary hardware